Meet a Freshman Studies Student
We sat down for a Q&A with Ole Miss Freshman Studies student, Logan Bishop, to find out more about his experience as a UM student.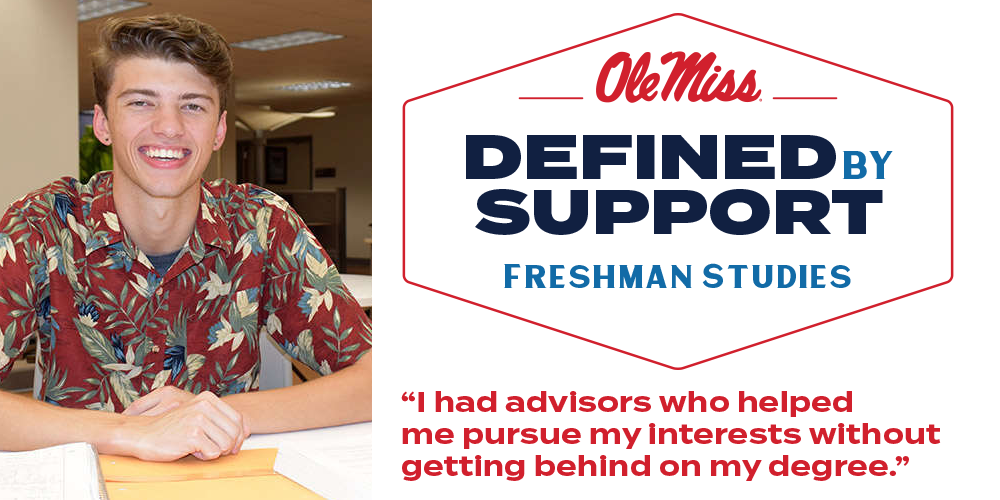 What made you choose Ole Miss?
The main reason I came to Ole Miss is because I got great scholarships. A lot of people think that you can't (receive scholarships) as a Freshman Studies student but there's a broad variety that you can get through the school and federal programs. 
What has your experience been like as a Freshman Studies stu­dent?
My first year has been great. I took an EDHE class spe­cifically for Freshman Studies students that tells you about all the re­sources available on campus. We also took personality tests and the "I Start Strong" survey to help define career interests and majors that might be a better fit.
What's one piece of advice you would share with someone who is considering entering college without a major?
At the beginning of the fall semester, I worried about being be­hind students who had chosen a major, but then I realized most fresh­men take the same general classes because everyone needs the same pre-requisites. Now that I'm at the end of my first year, I find that it was a great time to identify what you're looking for and I'm feeling more comfortable about staying on track with other students. There is so much support once you're here. You'll have no problems figuring out what you want to do.
What's on your Ole Miss bucket list?
Choosing a major (lol). Really, though, I want to experience everything there is to do in Oxford. Before I graduate, I definite­ly want to eat at all the restaurants on the Square.
Which Ole Miss class or professor has influenced you most during your time here? Why?
EDHE 105 has helped me out the most when it comes to fig­uring out majors I might be interested in. My Freshman Studies advisor has also helped a lot. She's been great to give me a ton of class op­tions so that I can experience different things that I'm interested in and hopefully narrow the fields that I'm considering.